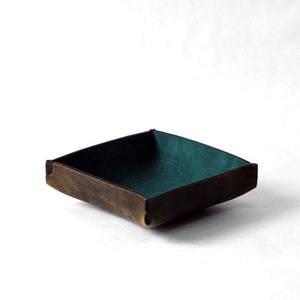 Polt
The 5 1/2" Catchall - Teal
Regular price
$60.00
$0.00
Unit price
per
Our 5 1/2 " catchall is a must have, especially for the ones who lose objects within the house all the time. Once you get used to keeping them in it, you'll be a bit more organized 
The idea is to keep daily carry objects in it, like keys, jewelry, wallets and your phone maybe. If it saves you 3 minutes a day not looking for your keys before you leave then that's a keeper!
It's made of multiple layers of leather by fusing different leaters. Carefully hand-stitched with a premium waxed thread in dark brown color.
Inside: Soft suede leather in Teal
Outer Shell  : Heavy leather in dark brown. 
---